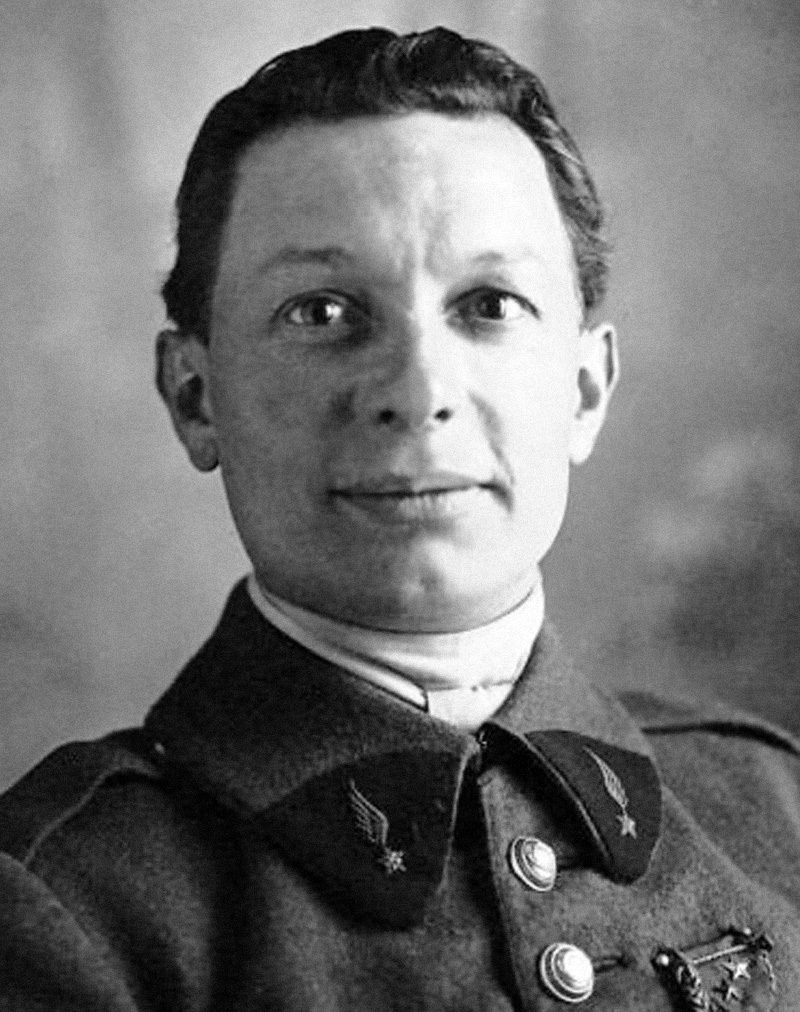 Sgt. Charles Godefroy
In the 1919 Paris victory parade the cream of French aviation marched like so many poilus, the feat for which Jean Navarre gave his life unaccomplished. Georges Guynemer had contemplated a flythrough of the Arc de Triomphe as early as 1916, but after a few passes deemed it impossible. Even Roland Garros pronounced it suicidal. Neither had survived the war, and with the great Navarre gone as well, who remained up to the task?
Sympathetic aviation writer (and Navarre biographer) Jacques Mortane had just the man. Sgt. Charles Godefroy had won the Croix de Guerre in the infantry, only completing his pilot training at war's end. Like Navarre, he was a natural in the air, with 500 flying hours as an instructor, but in July 1919 he was about to demobilize and hadn't flown for some six months.
Seven years older than Navarre, Godefroy approached the Arc with a cooler head. He took numerous measurements and studied the crosscurrents from the many intersecting avenues at the Place de l'Étoile. Rather than practicing under the near-invisible phone lines that had claimed his predecessor, Godefroy used the bridge over the Petit Rhône at Miramas, his birthplace.
At 7:20 AM on August 7th he reported in uniform to an aerodrome outside Paris and, with the help of a complicit mechanic, borrowed a plane (usually described as a Nieuport 11 Bébé, then long out of service, but almost certainly a late-war Nieuport 27). Within minutes, approaching from the west in misty conditions at just 300 feet, he was circling the Arc to alert Mortane's film crews, placed below to catch him going in and, hopefully, coming out.
Then, using the Pont Maillot as his initial point, Godefroy dropped the Nieuport's nose and, scattering horses and pedestrians, went roaring up the Avenue de la Grande Armée just 50 feet off the ground. The half-mile run gave him, at some hundred miles per hour, less than a minute to line up his approach.
"Just before I reached the Arc," he recounted, "a gust of wind nearly drove me off my course." He had only about ten feet to spare on either side. And as he burst onto the Place de l'Étoile the unexpected happened: a trolley driver on the far side of the Arc hadn't seen him coming, and pulled across the opening.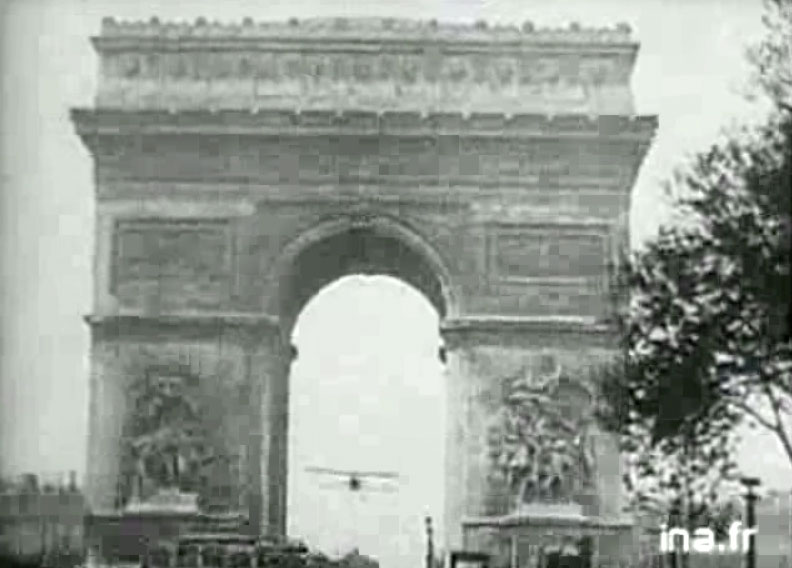 Sgt. Charles Godefroy flies his Nieuport through Paris' Arc de Triomphe. August 7, 1919. Click for video.
In Mortane's film the Nieuport can be seen to rock its wings as Godefroy makes a split-second adjustment, but he's already committed and, just that quickly, through. The trolley passengers were reported to have hit the floor, but by that time Godefroy was already gone. The whole flight took less than a half hour. No one at the field even noticed he was gone.
His identity soon came out. All France hailed him. Authorities let him off with a warning. To discourage future attempts, Mortane's film was suppressed. (In October 1981 Alain Marchand repeated Godefroy's feat; rather than being lauded, he was fined 5,000 French francs. Ten years later, in August 1991, a pilot stole a Mudry Cap B-1 from the Aeroclub at Lognes and flew under the Arc and the lowest arch of the Eiffel Tower as well.) Godefroy gave up flying. Jean Navarre, though, would have been proud.


More by author Don Hollway: